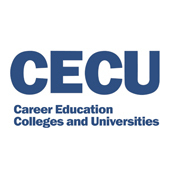 CECU: STATE 90/10 LAWS DO NOT SUPERSEDE FEDERAL LAW
May 10, 2021
Arlington, Va. —
 Career Education Colleges and Universities (CECU) today sent a letter to the Maryland Higher Education Commission (MHEC) recommending that MHEC interpret Maryland state 90/10 laws to be consonant with the new federal 90/10 law, as amended by the American Rescue Plan Act of 2021. Such an interpretation would ensure that proprietary institutions in Maryland are not required to comply with two different 90/10 rules, as the Maryland definition of "federal funds" is potentially divergent from the federal definition.
The letter, which was co-signed by several schools that would be directly affected by the Maryland law, outlines why efforts to further regulate proprietary schools via stringent state 90/10 laws may be prohibited under federal law. CECU also demonstrates why the Maryland law would be preempted by federal law if MHEC takes an alternative interpretation.
Although this letter specifically pertains to the new Maryland law, the message of federal preemption applies to any state that may be considering legislative changes affecting proprietary schools.