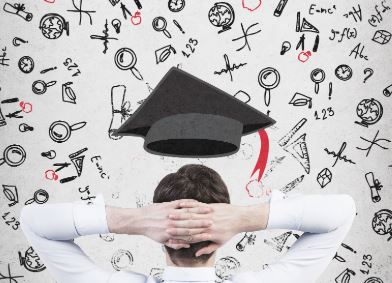 Experts Say We're Approaching a Third Wave of Higher-Ed Reform
As the global economy changes and demands more highly-skilled workers, some experts are tracking what they call a third wave of postsecondary education reform focused on making sure graduates have career-long alignment between their education and the job market.
The new report from Jobs for the Future (JFF) and Pearson notes that a career path won't have a single-job trajectory, but instead will require a lifetime of learning. Higher education will have to experience significant reform to create graduates equipped for such a workforce, the report's authors claim.
"As the future of work is realized, what makes us human is what will make us employable; education systems are already evolving to develop and measure the skills that matter, but there is much more that can be done," says Maria Flynn, JFF's president and chief executive officer.
Higher education's first wave of reform focused on access, according to the report–helping more people enroll in higher-ed programs. The second wave addressed academic success and getting more students to cross the finish line and earn certificates and degrees.
This latest higher-ed reform wave focuses on what the report's authors call "demand-driven education," where programs will zero in on ensuring graduates are job-ready and have access to rewarding careers over the course of their lifetimes. This third wave of higher-ed reform will create an education system that adapts to the needs of learners and employers, and it responds to signals from society to ensure that desired job qualifications and available training align. 

Demand-driven education aims to keep pace with the emerging global economy, which is technology-infused and industry-driven, and it also strives to keep up with the demand for skills that economy will require of its workers.
Higher-ed reforms will have to:
1. Develop and measure the specific skills that will be most in demand, especially interpersonal skills and complex thinking
2. Use dynamic and work-based pedagogy to grow learners' competencies, while also preparing educators to embrace new forms of teaching and learning
3. Respond to the needs of the labor markets to ensure continuous alignment
4. Create flexible and adaptive pathways to allow learners to rapidly convert learning to earning
5. Support changes that make the entire education landscape function better, enabling traditional and alternative providers to participate in creating the future of education alongside industry
The authors outline a number of suggestions for individuals, education systems, and industry, pulled from promising practices observed in the U.S. and the U.K., including:
• Competency-based education, which allows learners to show what they know as soon as they know it and move quickly to the next level
• Employer and industry-led models, which radically lower the opportunity costs of education by providing further training on the job
• The latest labor market intelligence tools and techniques, which provide educators with powerful insights into the changing skills marketplace
• Dynamic and work-based pedagogy, to instill the critical skills needed for the future of work
• New pathways and business models that support access and completion for learners at any point in their career and at virtually any income level