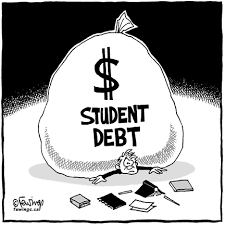 Fannie Mae Allows Home Owners to Swap Student Loan Debt for Mortgage Debt
Fannie Mae, the largest backer of mortgage credit in the country, has issued new guidelines allowing home owners to refinance their mortgages to pay off their student loan debt. The option to essentially swap student loan debt for mortgage debt is an expansion of a program launched last year with personal finance company SoFi.
Rohit Chopra, a senior fellow with the Consumer Federation of America and former student loan ombudsman at the Consumer Financial Protection Bureau, said the option would allow some home owners to save a significant amount, because the interest rates on mortgages are typically much lower those for private student loans and PLUS loans. But he said it could introduce real risk for borrowers as well.
"It's probably a good option if you have a solid income and stable job," Chopra said. "If you are concerned about your financial future, you want to be really careful about putting your home at risk."
Borrowers who pursued the student-debt-for-mortgage-debt swap would also forgo rights to use income-driven repayment programs or pursue Public Service Loan Forgiveness for federal student loans. But Chopra said the new guidelines from Fannie Mae are an acknowledgment of the financial realities of Americans entering typical home-buying age.
"Their student debt is a real issue that both the industry and policy makers have to deal with," he said.
A recent report from the Federal Reserve Bank of New York found that home ownership is positively associated with college attainment, regardless of debt level. But the report also found that an increase in delinquency rates on student loans could damage borrowers' credit and adversely affect their chances of buying a home.