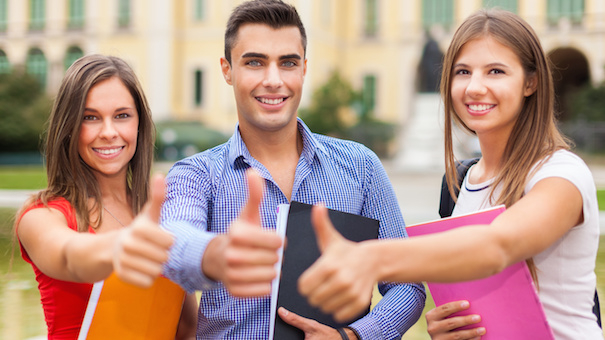 How to Boost Completion Rates
by Shalina Chatlani @chatlanis
With the nation's average six-year college completion rate for first-time, full-time students hovering around 59% according to the National Center for Education Statistics, institutions are constantly searching for best practices and strategies to enhance graduation outcomes. And, that's especially true when it comes to the growing enrollment of adult nontraditional students and those from low-income, underserved backgrounds.
Experts at the recent 2018 New York Times Higher Ed Leaders Forum, though, contend that most people in higher education fail to recognize a crucial detail. Students need more than just academic interventions and lower tuition, as they often lack access to basic goods and services necessary to thrive in college.
Making college cheaper is only part of the equation
Recent studies are shedding a light on just how pervasive homelessness and hunger are among students attending college, with a 2018 survey from Temple University and Wisconsin HOPE Lab showing 36% of college students report food insecurity and another 36% report they are housing insecure, with 9% being homeless. These statistics are conflated when just considering community college students, often coming from more underserved, low-income backgrounds, with 42% of these students saying they struggle to find food.
Experts at the conference noted that this reality often goes unnoticed in conversations around completion, but the lack of access to basic services like being able to eat, can set students behind more than anything else. While tuition is high and these students need help in that area, they need much more in order to graduate, explained Sara Goldrick-Rab, Professor of Higher Education Policy and Sociology, Temple University in one session.
"The new economics of college goes way behind tuition; we spend so much time talking about whether tuition is going up whether it's frozen, whether that makes college affordable. But the vast majority of the cost of attending college faced by students in the United States are things like books and supplies, room and board, medical expenses, transportation, clothing," said Goldrick-Rab. "Families of today's college students are more economically strapped than ever before. Their incomes are not rising. As our prices rise, their incomes are stagnant or even declining."
The industry may be slow to recognizing these common issues, said Wes Moore, CEO of nonprofit Robin Hood during the another panel discussion, because higher education wasn't originally intended to accessible to all portions of society. And now, institutions are having to adjust, seeing that more nontraditional and low-income students are able to make it into the pipeline and require greater, different kinds of supports.
"The nontraditional students we're talking about now — we're really talking about college when it was never made for you," said Moore, adding that nontraditional students that are typically adults returning for a postsecondary credential have to juggles full-time jobs, often families and other obligations that make it difficult for them to live out the typical college experience.
"In New York City, people use things like called Metro Cards. If our students don't have Metro Cards, how are they able to then go from where they live? When you're watching the rising cost of living more students are getting pushed further and further out […] oftentimes people talk about internships […] but if I'm an under-resourced student […] if I have any free time I'm getting more hours at my job right now. And so was all these other factors that play into completion."
Thinking out of the box to meet students' needs
Increasing enrollment of nontraditional students is already having positive benefits for long-time stakeholders in the industry, explained Eloy Ortiz Oakley, chancellor of California Community Colleges, because it's forced individuals to start stepping into the shoes of a generation of students with entirely different sets of backgrounds and societal concerns.
"Nontraditional students help our faculty better understand what is happening in their communities, in society, and in the workforce. Those of us who are educators are sometimes too far detached from what is really going on we have the luxury of having things like tenure or full benefits, retirement. These are things that are foreign to most people in communities these days so we have become somewhat detached from what is really going on," said Oakley, noting that's why colleges generally need to do a better job of admitting low-income students from diverse backgrounds.
Though, as many of the experts contended, admission is not enough. Even the most driven students can fall behind when they don't have access to basic goods — and that's why administrators must think outside the box to provide supports students of the past may never have needed, said Goldrick-Rab. She suggests, for instance, that counselors consider food pantries.
"How many of us have thought instead of sending an academic advisor to talk to them about their math class that we might give them a meal plan?" she said. "Food pantries are a charitable response and there's nothing wrong with them but you have to understand that no one has ever been prevented from becoming food insecure because of the campus food pantry," she continued, adding colleges need to go beyond financial aid and offer students access to programs that do things like help with "filling out the paperwork" for access to services.
Another area in dire need of consideration, said Moore, is with transfer credits. When institutions don't accept credits from another school and require students take the class again, it creates another financial barrier to completion on top of tuition. He also explains that the industry could do a better job of considering real life workforce skills as a type of credit eligible for graduation. And Oakley agreed, noting that this type of move must also happen in order for institutions to truly provide economic opportunity for these students and thus also meet the demands of the workforce.
"I think we need to put the focus every single day on those universities that are the gateway to students of color and low income students and that are providing real economic mobility," said Oakley, noting that the pressure on elite schools doing that only is not going to make an impact. "These should not and cannot be terminal credentials. We're trying to deal with a fast moving economy, and we need to ensure that these individuals have some economic security, otherwise their children who are coming through our pipeline are not going to have opportunity," he said.
"They should be able to continue to pile up those credits and they should lead to a higher level credential [because] when you're working all day long two and three jobs, it's very difficult to just drop everything that you're doing, attend one of our community colleges, wait three or four years and then get your credentials."