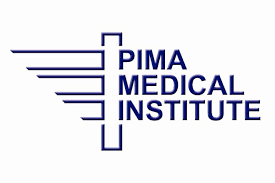 Pima Medical Institute Unveils New San Marcos Campus
Pima Medical Institute's San Marcos campus was bustling with excitement on June 28, as the newest location in the heart of North City in Northern San Diego County was officially unveiled.
Students, instructors and staff, and community partners were on hand for an official ribbon cutting. Many in attendance also took part in campus tours and classroom lab demonstrations that included sealing and cleaning of teeth by the Dental Assistant students, vein location procedures by Phlebotomy Technician students and anatomy exams on small animals by Veterinary Assistant students.
The 40,000 square-foot campus offers a Respiratory Therapy associate degree program. It also offers Dental Assistant, Medical Administrative Assistant, Medical Assistant, Pharmacy Technician, Phlebotomy Technician and Veterinary Assistant certificate programs.
"After serving the Chula Vista community for 20 years, we are pleased to have this new San Marcos campus and to now offer quality medical career education to those in North San Diego County," said DeWayne Johnson, San Marcos Campus Director.
San Marcos Vice Mayor Rebecca Jones was on hand to officially welcome Pima Medical Institute to the area that is known as the educational hub of North County. Jones told the crowd of nearly 100 people that Pima Medical was a great addition to the growing landscape in San Marcos.
Further illustration of the area as a growing hub of education was the attendance of Vivian Sanchez, CEO of the University of St. Augustine for Health Sciences (USAHS). Pima Medical Institute, in partnership with USAHS, is now offering select prerequisite courses for USAHS programs. These courses are offered online through Pima Medical and are recognized by USAHS.
"Our programs are designed to provide healthcare education to those interested in the medical field so that they enter the workforce with the skills needed to be successful," said Fred Freedman, Pima Medical Institute President and CEO. Freedman added, "We take our responsibility to our students very seriously. We're not only about job seeking skills, we're about job keeping skills and career opportunities that lay the foundation for a lifetime of professional stability."
Armando Covarrubias is a Medical Assistant at the San Marcos campus. He has already put the real-world training he has received to good use. The night before the grand opening event, Armando's co-worker at a local restaurant became unresponsive. While waiting for help to arrive, Armando jumped into action. "My training automatically kicked in and I started CPR, Covarrubias said. "With my training from Pima Medical, I saved my co-workers life," he added.
The San Marcos campus is located in the heart of North City, a multi-use community that also offers dining, entertainment and shopping, student housing and outdoor recreation with 30 acres of parks and over a mile of urban trails.
Pima Medical Institute offers certificate, associate and online bachelor's degree programs—all in the healthcare field. Programs focus on medical, dental and veterinary careers. For more information about Pima Medical and its programs, visit pmi.edu/programs.