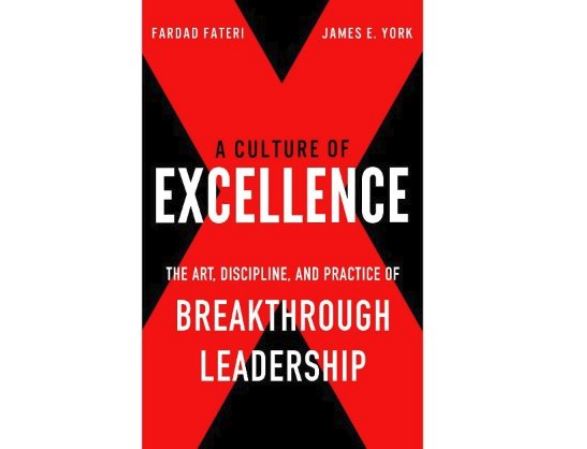 The Book That Truly Shows Culture Does Indeed Eat Strategy for Lunch!
Fardad Fateri and James E. York of International Education Corporation (IEC) have released a new book, available through various retail outlets worldwide.
The new book, "A Culture of Excellence: The Art, Discipline, and Practice of Breakthrough Leadership" is published by HARVARD SHUSTER. This book is about leadership and organizational culture written by two executives with strong business and academic backgrounds.
To find this book, please go to Amazon via the following link:
Business books are often written by academic researchers with no business experience or by business practitioners with little academic research backgrounds. We finally have a book on leadership written by authors with strong academic and business backgrounds. Fateri and York capture the essence of pure leadership, replete with executable application for everyone.
What is leadership? What is organizational culture, and why does it matter? As the CEO and CLO of a large distributed multi-site and multi-state organization, Dr. Fardad Fateri and James E. York are certainly qualified to answer these questions and more—between them, they have decades of experience leading organizations at every level. Now they've put their collected wisdom into an essential book explaining how to take your organization to top levels of performance. The magic word is one you've heard but perhaps not fully considered: culture.
At a time of economic uncertainty, it's more vital than ever that your organization's culture encourages passion, responsibility, and success. But how? In their book, Fateri and York share methodologies on how to transform an organization from one of failure, cynicism, skepticism, and weakness to one of success, peak performance, and responsibility. They demonstrate how to display breakthrough leadership traits that will help foster a positive organizational culture. In addition, Fateri and York use real-life examples of great organizational cultures, as well as hands-on lessons.
Fardad Fateri is the CEO of International Education Corporation (IEC). Fateri started his career as a professor and later moved into senior leadership positions at large private and market-funded organizations. He writes and presents extensively on leadership, organizational culture and education. Fateri completed his academic work at University of California in Irvine, Alliant International University and Harvard University.
When asked about the driving force behind writing this book and its core objective, Fateri responded, "Initially, I wanted to write a book as a personal accountability to capture the power of organizational culture and breakthrough leadership, however, the process evolved into a journey of self-discovery and revitalization."
Fateri added, "Our objective was to write a book that's relatable, practical, useable, timely, relevant, and thoughtful. We wanted to be methodical and academic but we also wanted to write a book that's easy to read by individuals who want to be the architects of their own lives and want to play a powerful role in creating futures they can be proud of."
James E. York is the Chief Learning Officer at IEC. Jim has held executive leadership positions at Lucent Technologies, AT&T and University of Phoenix. About his experience in writing this book, York said, "Dr. Fateri's ability to identify and drive values and principles of a culture of excellence has been extremely inspiring for me, as well as hundreds of my colleagues. It is an honor to work with such a visionary!" He added, "Amassing the information for 'A Culture of Excellence' was an extraordinary experience. To be able to research more than a decade of successful cultural elements, and organize them into a cogent format for others to benefit was absolutely exhilarating!" York emphasized, "Our book is designed for the human at every level, at every organization. Its impact will be felt both at work and at home!"
Fateri admitted, "In our own most simplistic way, we made a deliberate attempt to implicitly tell a real story to explain some small portion of the meaning of work and life. When writing a book about values, leadership and the power of inner strength and capacity, references to life's and work's meanings are inherent."
With an ever-increasing gap between organizations as well as individuals that fail and those that skyrocket, the question isn't whether you should read and apply the concepts in A Culture of Excellence—it's whether you can afford not to!