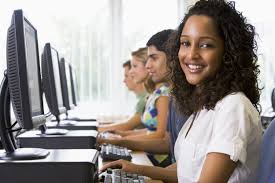 California's new Calbright College faces questions weeks before opening
alifornia's new online community college officially starts in eight weeks but it has yet to have a formal application for students or identify employers that will host its three new industry-certified programs.
But Calbright College's new president, Heather Hiles, said the institution is on track to meet those goals by its Oct. 1 start date.
"This is not meant to be the fully loaded, fully technologized program," Hiles said. "We're right on schedule for all the things we need to set up our training programs."
With this first group of students, Hiles said the online community college is starting small just as any other startup would. Calbright officials will focus on increasing enrollment once they figure out what technology works and doesn't work for the college's target group of adult learners, she said. They've set a goal of launching with no more than 400 students who would learn skills online and in the workplace.
So far, about 160 prospective students have filled out a form on the Calbright website expressing interest, said Taylor Huckaby, the college's communications director.
He said the college has not yet followed up with those people. It's unclear how many students will enroll, but as an open-access institution, the college would select almost any applicant until it meets its initial enrollment limit.
Hiles said plenty of people are interested in attending the college, but beyond news stories, officials haven't officially marketed or recruited students.
The college's pool of applicants includes more than 8 million Californians who work in low-paying jobs, she said. "I'm meeting people every day who are struggling and who want better jobs and opportunities," Hiles said.
Hiles said the college is hiring instructors and recruiting coaches and faculty for students. But officials could not say how many instructors had been hired. Huckaby said the jobs are being posted on the community college system's online registry.
Some of the instructors are coming from other community colleges in the state, Hiles said.
Calbright is receiving $20 million annually for operating costs from the state, in addition to $100 million in startup costs to be spent over seven years. Students are not expected to pay tuition.
The online community college began as a pet project of … (continue reading…)