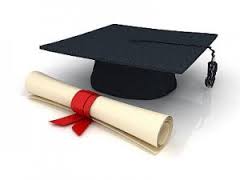 College Completion Rates Recover After Slide
Overall national college completion rates are rising after a two-year slide, according to new data from the National Student Clearinghouse Research Center, which tracks 97 percent of all college enrollments.
For college students who first enrolled in 2010, the overall six-year graduation rate was 54.8 percent, an increase of 1.9 percentage points from the previous year's students. The new rate is similar to that of students who first enrolled in 2008, but is lower than the 56.1 percent rate for the pre-recession 2007 group.
"We can expect this nationwide recovery in college completion rates to continue in upcoming years," said Doug Shapiro, the center's executive director.
The recession led to a nationwide surge in college enrollments, the center said, particularly among adult and part-time students. That bump was followed by declining completion rates, which have now partially reversed.
"Dramatic increases in enrollments appear to have leveled off and completion rates are recovering some ground," the report said. "For two-year institutions that could point to overcrowded classrooms to help explain lower completion rates in the previous years, the higher rates for this year's smaller cohort were perhaps to be expected. For four-year public and nonprofit institutions, however, the rebounding completions rates accomplished with continuing increases in enrollment are a surprising result."