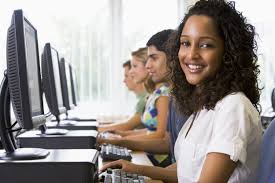 College Scorecard Drops National Comparison Data
by Andrew Kreighbaum
In its latest update to the College Scorecard, the Education Department has dropped data putting key outcomes measures for individual colleges in context. The department is making those changes as it pushes transparency offered by the Scorecard as an alternative to accountability provisions in the gainful-employment rule.
The Scorecard consumer tool previously showed how the net price, graduation rate, repayment rate and typical earnings for colleges compared to the national median. It also showed whether the college was above or below average for those measures.
The latest update includes no information showing how a college fares relative to other institutions, although users can still select and compare data on outcomes at multiple colleges using the tool.
Liz Hill, a spokeswoman for the department, said the national median comparisons were removed from the Scorecard because officials saw it as potentially misleading to students.
National median results are calculated for all institutions regardless of program type, selectivity or student populations served, she said.
"Institutional selectivity has a significant impact on institutional outcomes, and therefore the most appropriate comparisons are between institutions that serve similar students and have similar admissions criteria — not a comparison to the national average of all institutions," she said. "We encourage students to compare the outcomes of the institutions they are considering or that are available to them to make an informed enrollment decision. It is possible that a college or university that has 'below average' outcomes when compared to national averages is actually achieving exceptional results when compared to other institutions that serve a matched comparison group of students."
The update to the Scorecard consumer tool also drops so-called threshold earnings data, which show what share of former students earn more than the typical high school graduate. Hill said the department viewed that metric as misleading because it compared earnings of recent graduates to high school graduates who may have been in the work force as long as 16 years.
Clare McCann, the deputy director for federal higher education policy at New America and a former Education Department official, said dropping national comparison data won't make it easier for students to navigate a marketplace of higher ed institutions.
"It's great news that the department has continued to update the College Scorecard — and that, by all accounts, it plans to continue doing so," she said in a blog post. "But updates to the site should come in the form of better, clearer information to consumers, not less transparency or harder-to-parse information."