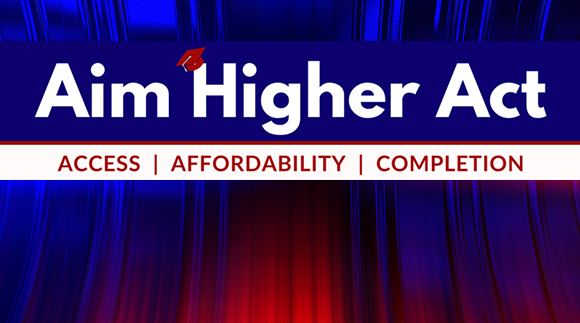 Democrats Unveil HEA Reauthorization Bill
Career Education Colleges and Universities
All 17 Democrats on the Committee on Education and the Workforce today unveiled the Aim Higher Act—a reflection of the House Democrats' vision for reauthorization of the Higher Education Act.
Rep. Bobby Scott (D-VA), the senior ranking Democrat on the Committee, called the proposal an opportunity for students "to earn a debt-free degree or credential." His statement goes onto say that the bill "cracks down on predatory for-profit colleges that peddle expensive, low-quality degrees at the expense of students and taxpayers."
In the bill summary, the Democrats make several statements about the for-profit sector:
The summary says that the bill advanced by committee Republicans "gives for-profit colleges unprecedented access to Federal financial aid with little accountability and opens the door to more waste, fraud, and abuse."
The summary calls for changing the 90/10 to 85/15 "closes loopholes in the current rule that allow for-profit institutions to rely on funding from other Federal programs (such as GI Bill) without penalty."
The summary calls for restrictions on marketing and advertising. "Given the aggressive marketing and recruitment of low-income students who are eligible for Federal aid, the Aim Higher Act prohibits all institutions that spend less than half of their tuition revenue on instruction from using Federal funds for marketing, advertising, recruiting or lobbying."
"The bill also prohibits institutions from forcing students to sign predispute arbitration/class action ban agreements so that students can have their day in court if their institution defrauds them."
"In response to many for-profit schools attempting to convert into non-profit entities to escape regulation, the bill strengthens the legal definition of a non-profit institution and establishes a transparent process for approving conversions at the Department and maintaining non-profit status."
"The bill also maintains the requirement that career programs lead to gainful employment and codifies the requirement that students who are defrauded by their colleges are provided full relief."
The bill also modifies the Cohort Default Rate (CDR) "by adjusting for the number of borrowers at an institution and the number of borrowers who are in long-term forbearance (18 months or longer)." The summary goes onto say that the "Aim Higher Act establishes multiple thresholds that require institutions to take measures to improve their CDR. Institutions with a high adjusted CDR can receive technical and financial support from the Department to improve student outcomes. Only public institutions and private, non-profit institutions that serve a large number of Pell students are eligible for this assistance [emphasis added]."
CECU will continue to analyze the bill and provide you with appropriate updates. You can always contact Michael Dakduk, CECU's Executive Vice President and Director of Government Relations, with questions at Michael.Dakduk@career.org or by calling 571-970-6338.
Visit the Aim Higher Act Webpage Here: http://democrats-edworkforce.house.gov/aim-higher
Read the Full Bill Summary Here: http://democrats-edworkforce.house.gov/imo/media/doc/Aim%20Higher%20Act%20–%20Bill%20Summary.pdf
Read the One Page Fact Sheet Here: http://democrats-edworkforce.house.gov/imo/media/doc/Aim%20Higher%20Act%20–%20Fact%20Sheet.pdf