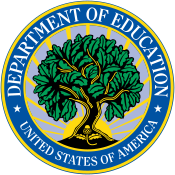 She Left the Education Dept. for Groups It Curbed. Now She's Back, With Plans.
WASHINGTON — Depending on whom you ask, Diane Auer Jones has returned to the Education Department with either a mission or a vengeance.
A little more than a decade ago she resigned as an assistant secretary for postsecondary education in the George W. Bush administration, after protesting the department's treatment of an accreditor that oversaw religiously affiliated, liberal-arts colleges. Department officials saw accountability in their crackdown; Ms. Jones saw bias against a gatekeeper for nontraditional college degrees.
"Favored accreditors are treated differently than unfavored accreditors," she said in an interview. "That was my awakening to how the current system could be manipulated to pick winners and losers."
Now, as the chief architect of Education Secretary Betsy DeVos's higher education agenda, Ms. Jones is leading the charge to overhaul the accreditation system, and, to critics, revive the fortunes of for-profit organizations that operate low-quality education programs that have a track record of shortchanging students and taxpayers.
"President Trump's Department of Education is stacked with former for-profit executives whose companies got rich by ripping students off," said Charisma L. Troiano, the press secretary for Democracy Forward, a government watchdog organization that has accused Ms. Jones of several conflicts of interest. "For decades, Diane Auer Jones has advocated for this predatory industry."
Ms. Jones has proposed a significant rewrite of rules that would loosen the federal government's reins on accreditors, largely invisible but critical watchdogs whose stamp of approval serves as an education institution's lifeline to millions of dollars in financial aid.
The rules would make it easier for accreditors to be recognized by the Education Department to oversee institutions, and afford them more flexibility in how they manage programs. They would also relax departmental standards for measuring accreditors' performance, and potentially allow them to take years to penalize troubled schools. The rules would strengthen the role that accreditors have in preventing abrupt school closures, and extend federal funding to troubled schools longer to allow students to make other plans.