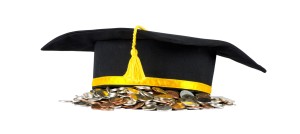 Trump Administration Backs Off Reshuffling of Student Debt Collection
By Andrew Kreighbaum
An Education Department plan to begin cutting large debt collection firms out of the student loan system is on hold after Congress warned against move.
The Department of Education planned this month to begin reshaping the role of private debt collection firms in handling student loans by pulling defaulted borrower accounts from a handful of large private contractors.
Lawmakers who control the department's budget had other ideas.
After a recent Senate spending package warned the department against dropping the debt collectors, the plan is on hold. And it's not clear how those companies will figure into the Trump administration's proposed overhaul of student loan servicing.
Private loan servicers handle payments from borrowers on their student loans and provide information on payment plan options. When borrowers go more than 270 days without making a payment on their loans, they are considered to be in default. Those companies are tasked with collecting on more than $84 billion in defaulted student loan debt.
The tactics and performance of debt collectors have come under attack from Democrats and consumer advocates. And the Education Department has been involved in a years-long legal dispute over contract awards for the collectors. But the Trump administration, in a resolution of that legal fight, in May said it planned to cancel the entire debt collection solicitation. (A separate contract award for "small business" firms was not affected.)
Those five firms last month received notice from the department that it planned to start withdrawing tens of thousands of existing borrower accounts beginning July 3. The accounts would be reassigned to 11 companies designated as "small business" firms with a contract that lasted two additional years.
Observers in the industry warned the sudden transfer of accounts would disrupt relationships with borrowers looking to rehabilitate loans and make progress fixing their credit. And they said it could mean thousands of job losses at the companies losing those accounts.
Members of Congress, who have already expressed concerns about aspects of the department's so-called NextGen loan servicing system, warned in separate appropriations bills against the move. A spending bill approved by the Senate appropriations committee included language directing the department not to pull accounts from debt collectors. And it encourages the department to extend current debt collection contracts set to expire next year.
The week after Senate appropriators voted the bill out of committee, and just before it planned to start reassigning borrower accounts, the department notified collections firms it was postponing that step.
The Senate legislation isn't close to being signed into law. But Colleen Campbell, associate director of the postsecondary education program at the Center for American Progress, said its plans were likely affected by the language from lawmakers.
"If we have appropriations language that they feel contradicts what they planned on doing, I think that definitely is something that could be motivating their behavior here," she said.
Campbell, who has called for the federal government to remove private debt collectors from the student loan system, said the Trump administration's notice that it would reassign borrower accounts shows what could be expected from the NextGen system.
The department's May notice that it would cancel all debt collection contracts said it would increase outreach to borrowers who become delinquent on their loans and that it expects those changes to reduce the overall number of borrowers in default.
It did not make any officials available from the Office of Federal Student Aid, which oversees debt collectors, to discuss those plans or the withdrawal of defaulted borrower accounts. An FSA spokeswoman said the office couldn't offer details on the process or comment on whether lawmakers' concerns led the department to hit pause on the reassignment of borrower accounts.
"The recall of accounts from the [private collection agencies] is temporarily postponed to ensure an efficient transition," the spokeswoman said.
Similar scrutiny from Capitol Hill earlier this year led the department to delay the rollout of a pilot programfor a debit card to disburse federal aid money.
Student advocates who have been critical of debt collectors had their own concerns about what the sudden transfer of accounts would mean for student borrowers whose loans are in default. Persis Yu, director of the Student Loan Borrower Assistance Project at the National Consumer Law Center, said the opacity of the process is itself concerning.
"I absolutely applaud the department for recognizing this is a model that doesn't work and saying we need something different," she said. "I am very concerned about the lack of transparency and with figuring out what that something different is."
Yu said serious disruption for borrowers occurred when Direct Loan Servicing Center lost a contract to handle federal direct loans to a handful of loan servicers, including FedLoan Servicing, Great Lakes Educational Loan Services, Nelnet and Navient.
"They need strong oversight. The department hasn't historically been great at that," she said. "Will borrowers be lost in the shuffle? I think that's a big possibility."
The department has said it plans to reduce defaults in the future partly by undertaking more engagement of student borrowers when they become delinquent on their loans.
The removal of the debt collectors would also mean the loss of institutional knowledge of that loan market, said Tim Fitzgibbon, a former senior vice president of the National Council for Higher Education Resources, who led the group's default and debt management efforts.
"They really are regulated by multiple parties. They're very attuned to what the consumer protections are. These are time-proven experts in their professions," he said. "I would encourage the department to take advantage of private sector expertise that's built up over the last 30 years instead of opting for a one-size-fits-all approach."