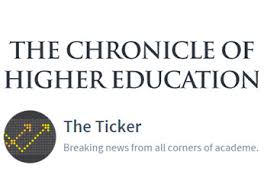 Why Politicians Love to Talk About Training Welders – The Chronicle of Higher Education
The Chronicle of Higher Education
Education Secretary Betsy DeVos gave it a shout-out after her first official college visit.Sen. Marco Rubio of Florida once attracted a swarm of fact-checkers after saying that workers in the field "make more money than philosophers."
The speaker of the House of Representatives, Rep. Paul Ryan of Wisconsin, has suggested that people learning it can help fill a skills gap in the economy.
Welding: It's a magnet for politicians who like to talk about the need to train students for jobs in high-demand fields. And the story politicians tell is generally the same: Welding programs train high-school graduates for well-paying jobs in an industry that's itching for more workers.
But why has this field in particular become such frequent fodder for conversations about preparing students for the work force, and potential alternatives to a four-year college degree?
You might think that politicians nowadays would be inclined to hail any profession that produces things, nodding to the revival of American manufacturing often touted by President Trump. But the labor experts and welding instructors we talked to have different views on why welding is having a moment. Here's what they told us:
Why talk about welding?
Gary Burtless, an economist at the Brookings Institution, said the trade is often used as a jumping-off point in discussions about the "skills gap" because it's a specific example of an occupation in which people can make a "good living" without a college degree. Using welding as an example provides a clear picture of someone with a highly skilled job who didn't have to earn a degree for their trade.
"We have tens of thousands of occupations that do not need a college diploma, but do need some kind of evidence for future employers to rely on."
The median annual salary for welders and people in related occupations is $36,980, and people in the 90th percentile can make up to $54,300 annually, according to 2016 data from the Bureau of Labor Statistics.After World War II, when a college degree became more valuable in the American labor market, welding was one of many trades for which a degree wasn't needed. But it became increasingly necessary for workers to demonstrate that they possessed those skills, Mr. Burtless said.
"We have tens of thousands of occupations that do not need a college diploma, but do need some kind of evidence for future employers to rely on," Mr. Burtless said.
Why now?
For years, politicians and scholars have tried to ensure that welding and other trades have a standardized way to show off skills to potential employers in the United States. But they haven't had as much luck in making tangible changes as in countries like Germany and Switzerland, where apprenticeship programs are more common, he said.
The uptick in welding conversations may also be tied to the nation's recovery from the 2008 recession. People turn their attention to trade labor like welding during periods of recovery, when more jobs are added to the economy, Mr. Burtless said.People start buzzing about occupational training when a company has all the workers it needs, or more workers than it needs, Mr. Burtless said. When a company has a maximum number of workers, then its leaders may invest in expansion, again getting people talking about worker training.
At Aims Community College, in Greeley, Colo., enrollment in the welding program has always been high, but for the past six to seven years there's been a waitlist, said Paul Hasty, program chair for welding instruction. The increased demand has even prompted the college to hire a fourth full-time faculty member.
Mr. Hasty said the recent media and political attention may have prompted the rise in students who want to pursue careers in welding, but it's also a skill that is applicable to other industries, including automaking and other forms of manufacturing.
Jeff Klein, a welding instructor at the college, said there's "no question" that the political talk of new oil and gas pipelines and a renewed emphasis on domestic manufacturing have been a "huge driver" of interest locally, and could be nationwide.
Though the oil and gas industry presents job opportunities for welders, those openings can come with a catch: Employers are often looking for workers with experience, Mr. Klein said.
There are options for recent graduates, who can spend a year as a welder's helper, assisting and working with someone who has more experience, and eventually moving up or being hired to work for a different company, he said.
What about after college? Landing the job?
Peter Cappelli, director of the Center for Human Resources at the University of Pennsylvania, said that job openings largely seeking "experienced welders" may be one factor that stops more people from getting welding certificates. That, in turn, would increase the number of employers searching for experienced welders.
Then there's the challenge of actually getting a welding certificate, said Mr. Cappelli, whose son is a hot-glass artist and looked into the industry. Community colleges and for-profit institutions might have programs that would ideally take about two years to complete, he said. But for students with families or full- or part-time jobs, such programs may not be the easiest to get through quickly.
Some certification programs might get students to graduate quicker, but those could be at community colleges with limited resources, or at for-profit institutions where the price tag could be steep, Mr. Cappelli said.
It's not that simple to land a welding job, or at least not as simple as politicians can make it seem, he said. Most examples that political leaders talk about are based on anecdotes. People like simple stories about good jobs and high wages, but the realities of the labor market are more complicated.
"With most of these things in the labor market," Mr. Cappelli said, "the people who are actually doing the commenting actually haven't looked at it very carefully."