Director of Operations & Sales
7400 E. Arapahoe Rd. Ste 10
Englewood, CO 80112
P: (303) 221-5626
F: (303) 221-5606
matt.chinn@unisainc.com
www.unisainc.com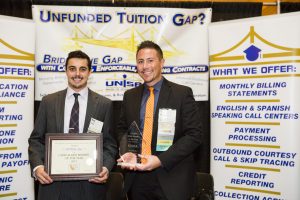 UNISA specializes in origination of tuition payment plans and Private Education Loans while servicing from inception to payoff. Satisfy Truth in Lending Act (TILA), Self-Certification, and Regulation Z compliance requirements with electronic signature. Offer a custom loan program to unfunded students with flexible repayment and accommodating interest options. Monthly statement billing and outbound courtesy contact is included as well as inbound customer service. Administer 90/10 compliance and ensure due diligence. UNISA provides a comprehensive solution to higher education finance. Monetize debt economically and efficiently and provide enforceable financing contracts tailored to your student demographic.
SERVICES
Tuition payment plan and private education loan origination with electronic signature
Monthly due diligence and loan servicing
Monthly statement billing USPS First
Skip tracing and return mail processing
Bilingual inbound customer service and outbound courtesy contact
Recurring auto pays and PCI-DSS compliant payment processing
Administrator account access displaying loan status, notes and process payment capability
Student access for address update, account review, and payment processing
Electronic disbursement, payment information, and reconciliation interfaces with student information systems
Federal Perkins Loan Master Promissory Note with electronic signature
Perkins Loan Entrance Counseling with electronic signature
Nursing and institutional loan due diligence and servicing
Third party collection agency interface
1098-E processing
Matt Chinn is the Director of Operations & Sales of UNISA located in Englewood, CO.  He was born in California and has a BSBA in Management from Northern Arizona University.  Matt is privileged to work in higher education and has great passion for helping students and administrators.  Specializing in tuition payment plans and private education loans, Matt is dedicated to customer service, due diligence and compliance.  He promotes best practices, financial literacy and debt management information.  Matt is an honored CAPPS breakout session speaker (2010, 2012, & 2013), 2013 Conference Planning Committee member, 2013 Allied Membership Committee Chair, and 2013 Allied Member of the Year Award recipient on behalf of UNISA.  Please contact Matt at matt.chinn@unisainc.com.