October 11-13, 2017

Theme: Finding True North
Venue: Hyatt Regency Mission Bay, San Diego, CA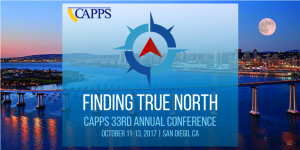 Conference Photos are posted on the CAPPS Facebook page: https://www.facebook.com/CAPPSonline/
CAPPS Memorial Scholarships: Watch the 2017 Memorial Scholarship award videos on the CAPPS YouTube channel.
CAPPS Hall of Fame STAR Award: Watch the video that was shown during the awards ceremony on October 12th, in honor of our 2017 Hall of Fame inductee Rick Wood.
The Norma Ford Financial Aid Professional of the Year Award: The 2017 award went to Elona Owens of Asher College. Though Elona was not able to attend the awards ceremony in person on October 13th, Asher College presented a video featuring Elona and her story, as told by her campus director, Linda Freeman. Watch it here.
Session Presentation Files Available for Download:

Pre-conference Breakout #1
10 Easy Ways to Increase Enrollments without Additional Costs
Darryl Mattox, President/COO, Gragg Advertising
Burke Malin, COO, Gurnick Academy
Pre-conference Breakout #2
Cyber Security: What Every School Owner And Senior Manager Needs To Know
Bill Ojile, Partner, Armstrong Teasdale
Dan Nelson, Partner, Armstrong Teasdale
Bruce Denson, President & CEO, Cobbs Allen
Pre-conference Breakout #3
Navigating the New Department of Education Proprietary School Audit Guide
Katherine Lee Carey, Special Counsel, Cooley, LLP
Rebecca Sanders, Senior Manager, Almich & Associates
Brittney Drake, Director, Financial Aid, Trident University International
Pre-conference Breakout #4
Engaging Millennials and Generation Z: Persistence Strategies for Today's Students
Beylor Meza, COO, Success Education Colleges
Breakout Session #2
Meeting Student Expectations & Satisfying Key Compliance Requirements
Sally Samuels, Director of Compliance, FAME
Ron Holt, Chair, Higher Education Practice Group, Douthit Frets Rouse Gentile & Rhodes, LLC
Victoria Russ, Director of Financial Aid, Bellus Academy
Breakout Session #3
Lessons and Best Practices on Maintaining Compliance and on Conducting a Self-Evaluation of your Compliance Program
Peter Leyton, Shareholder/Attorney, Ritzert & Leyton PC
Steven Gombos, Shareholder/Attorney, Ritzert & Leyton PC
Mike Abril, Vice President of Legal and Regulatory Affairs, San Joaquin Valley College
Breakout Session #4
A Student-Centered Approach to Institutional Success
Christopher Lambert, Associate Executive Director, Accrediting Commission of Career Schools and Colleges (ACCSC)
Breakout Session #6
Emergent Competing Career Education Models: Opportunities and Challenges for CAPPS Schools
Stanley Freeman, Principal and Education Founder, Powers Pyles Sutter & Verville PC
Sean Beller, Associate, , Powers Pyles Sutter & Verville PC
Breakout Session #7
Getting all your Docs in a Row: Clery/Title IX Compliance for Institutions of All Sizes
Valerie Mendelsohn, Vice President Compliance and Risk Management, West Coast University / American Career College
Brandon Sherman, Senior Counsel to the Assistant Secretary, Office for Civil Rights, U.S. Department of Education
Breakout Session #9
PDI's and Referrals – A Forgotten Art
Lisa Olmedo, VP of Client Services, Gragg Advertising
Burke Malin, COO, Gurnick Academy of Medical Arts
Breakout Session #10
Mobile Attendance Applications for Student Success
Ena Hull, SVP Student Financial Services, UNITEK Learning
Tina Tran, AVP Institutional Quality Assurance, UNITEK Learning
Breakout Session #12
Laws of Helping Paws and Claws
Bryce Young, Trial Attorney, Duane Morris LLP
Dr. Bonita M. Bergin, Ed. D., President, Bergin University of Canine Studies
Steve Gunderson's Friday Morning Keynote Presentation, "Two Weeks in October"
Steve Gunderson, President & CEO, Career Education Colleges and Universities (CECU)
Read More